Follow our CityErleben blog to get periodic updates on the best activities with or without your kids like museums, playgrounds, festivals, free programs, day trips and weekend excursions. Get the best out of NYC tested by fellow CityKinder Moms & Dads and our contributors.
Gigantisch war gestern – Titanosaurus kommt nach NYC
Dinosaurier faszinieren die Menschheit schon seit langer Zeit. Kein Wunder also, dass so manche Familie sich gerne und viel mit diesen urzeitlichen Lebewesen auseinandersetzt. Im American Museum of Natural History (AMNH) kann man seit kurzem einen sehr imposanten Vertreter bestaunen, der aufgrund seiner unglaublichen Größe nicht einmal in den für ihn vorgesehenen Ausstellungssaal paßt.
Dieser noch namenlose Titanosaurier wurde zusammen mit fünf weiteren 2014 in La Flecha, Argentinien, entdeckt. Der noch nicht ausgewachsene Saurier lebte for 102 Millionen Jahren, war unglaubliche 37 Meter lang und 14 Meter hoch, wenn er seinen Hals in einem 45Grad-Winkel hielt. Mit einem Gewicht von 70t war er sicherlich ein sehr imposantes Tier, das unseren Erdkreis bevölkerte.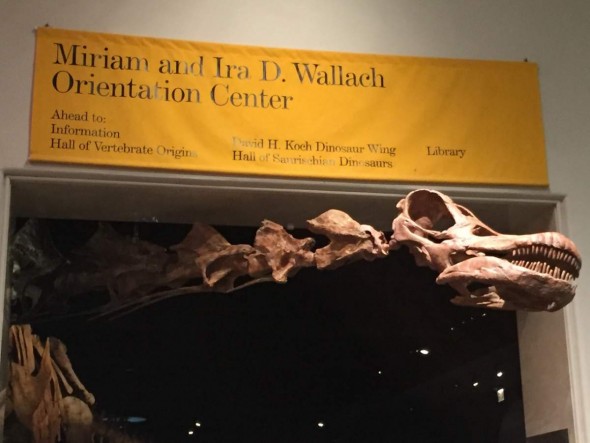 Als wir ihm als Familie gegenüberstanden, blieb uns im wahrsten Sinn des Wortes beim Anblick der übermenschengroßen Knochen die Spuke weg.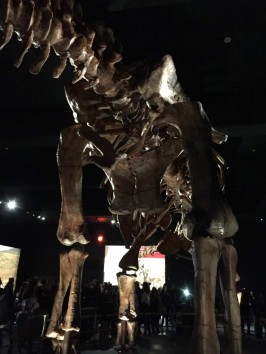 Ein Besuch dieses Titanosauriers sei allen Dinosaurier-Fans ans Herz gelegt. Beim Besuch AMNH gibt es einen freiwilligen Eintrittspreis, der nach einer individuell bemessenen Höhe gezahlt werden. Wer über die Dauerausstellungen hinaus Sonderausstellungen und Sonderaktionen besuchen möchte, dem empfehle ich eine Jahresmitgliedschaft. Bei Familien zahlt sich diese schnell aus.
Öffnungszeiten: täglich 10 am-5.45 pm
Weitere Informationen zu Titanosaurus gibt es hier.
Leave us a comment!