Follow our CityErleben blog to get periodic updates on the best activities with or without your kids like museums, playgrounds, festivals, free programs, day trips and weekend excursions. Get the best out of NYC tested by fellow CityKinder Moms & Dads and our contributors.
Green-Wood Cemetery – Trolley Rides, Twilight Tours & Konzerte
August 16th 2014, 8am
comments: 0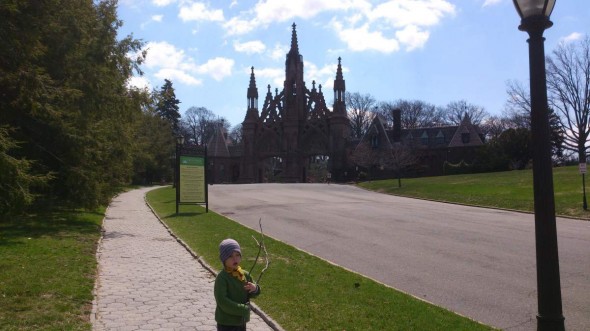 Wer auf der Suche nach Ruhe ist und in wunderschöner Landschaft tief durchatmen möchte, sollte sich nach Brooklyn begeben. Nein, nicht in den Prospekt Park, sondern zum Green-Wood Cemetery!
Dieser 175 Jahre alte Friedhof ist mit seinen zwei Quadratkilometern fast so groß wie der bekannte Brooklyner Park. Green-Woods malerische Hügel und Seen, sein historischer Baum- und Pflanzenbestand sowie die einmaligen Skulpturen und Mausoleen machten den Friedhof zwischen 1860 und 1873 zu New York Citys beliebtestem Ausflugsziel. Es war der Green-Wood Cemetery, der den Anstoß für die Schaffung des Central Parks gab. Seit 2006 trägt Green-Wood den Titel National Historic Landmark.
Selbst mit Hilfe der kostenlosen Karten oder der Green-Wood App  wird es dem Besucher schwerfallen inmitten dieser enormen natürlichen und kulturellen Vielfalt zu navigieren. Unbedingt zu empfehlen sind daher die Friedhofstouren im historischen Trolleybus, die jeden Mittwoch ab 13 Uhr und unter wechselndem Motto stattfinden.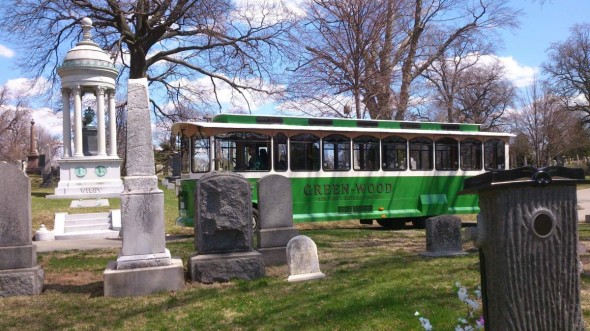 Besonders spannend ist die Rundfahrt "Hidden Gems", bei der die überaus unterhaltsame Führerin von tragischen Toden und kuriosen Toten berichtet. Während der rund zweistündigen Touren hält der Bus einige Male und die Gräber, Gruften und Statuen werden per pedes besichtigt. Buggies können mitgenommen werden. Am Besten reserviert man die Tickets online. Vor allem in den Frühjahrs- und Sommermonaten sind die Touren hoch frequentiert. Insider reisen extra für die Rhododendronblüte an.
Dieser Friedhof ist jedoch nicht nur ein Ort der Ruhe, sondern auch ein Ort voller Events und Happenings: morgendliches Yoga mit anschließendem leichten Frühstück (Stretch in Peace), nächtliche Touren durch ausgewählte Mausoleen samt Rotwein und Snacks (Twilight Tour and Catacomb Cocktails), Tanzperformances und Film, nachgestellte historische Schlachten (Battle of Brooklyn Commemoration), kostenlose Konzerte (Memorial Day) und vieles mehr wird den Besuchern hier geboten. Unbedingt den Green-Wood Newsletter abonnieren, um nichts zu verpassen!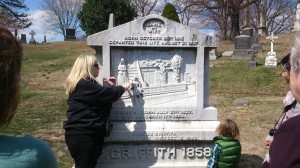 Historisch betrachtet ist diese Art der Friedhofsnutzung gar nicht so ungewöhnlich. Vor Eröffnung des Central Parks im Jahr 1873 pilgerten jedes Wochenende Tausende zum Green-Wood Cemetery. Einige kauften bereits zu Lebzeiten in Berghänge eingelassenen Mausoleen. Während der durchschnittliche New Yorker in Green-Wood die Picknickdecke ausbreitete, holten andere Klappstühle und Gartenmöbel aus der Familiengruft, um dann vor der begehrten Immobilie mit der ganzen Familie zu entspannen.
Apropos Familie. Beachten Sie, dass die zwei Seiteneingänge nur an Wochenenden geöffnet sind. Ballspielen, Joggen, Laufrad-, Scooter-, Fahrradfahren ist kleinen und großen Besuchern untersagt. Haustiere dürfen nicht mitgeführt werden. Der Haupteingang ist mit dem Bus über die fünfte Avenue bequem zu erreichen. Direkt gegenüber liegt die hervorragende gläserne Bäckerei Baked in Brooklyn  in der neben den üblichen Backwaren eine Vielzahl an gesunden Snacks und Menüs angeboten wird, beispielsweise leckere Salate, belegte Bagel und Joghurts. Nach dem Einlösen seines Trolleytourtickets, erhält man einen Gutschein für die Bäckerei und kann sich auf dem Rückweg noch einen kostenlosen Kaffee gönnen.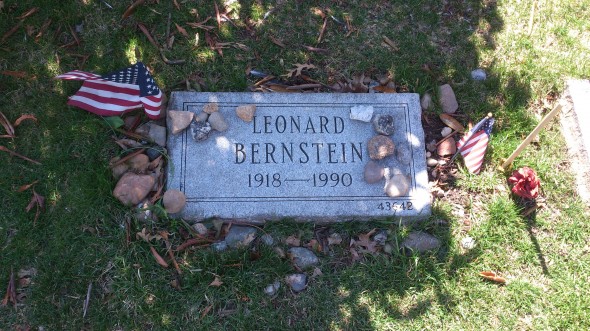 Um mit den Worten der Friedhofstourführerin zu schließen: "Besuchen Sie den Green-Wood Cemetery solange Sie ihn noch verlassen und wiederkommen können". Viel Vergnügen!
Wir danken unserer Gast-Bloggerin Katrin Aisch für den interessanten Beitrag!
Leave us a comment!