Follow our CityErleben blog to get periodic updates on the best activities with or without your kids like museums, playgrounds, festivals, free programs, day trips and weekend excursions. Get the best out of NYC tested by fellow CityKinder Moms & Dads and our contributors.
The High Line – ein Park mitten durch die Stadt
June 1st 2014, 1pm
comments: 0
Wie meinte vor kurzem eine New Yorkerin: früher empfahl sie Touristen die Klassiker wie Freiheitsstatue, MoMa, Staten Island Ferry, etc. Jetzt darf in dieser Liste die Highline auf keinen Fall mehr fehlen.
Wichtiger Tipp: Macht es cleverer als wir: wir haben nicht auf das Wetter geachtet, als wir den Ausflug geplant haben. Bei heißem Wetter fühlt man sich auf der Highline wie auf einem Grill. Das ist natürlich an vielen Stellen in der Stadt so, aber man kann die Highline sicher besser genießen, wenn es etwas kühler ist.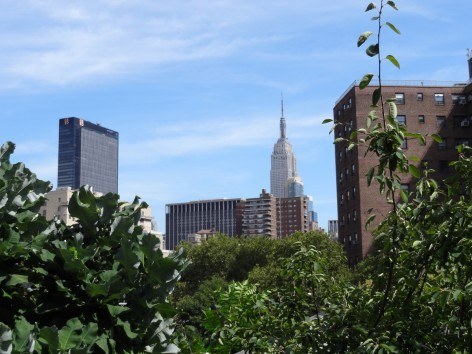 Zugänge: Es gibt an einigen Stellen einen Eingang: Ich empfehle immer an einem der beiden Enden hochzugehen und die ganze Strecke zu genießen. Man kann am aber auch an einigen anderen Stellen "zusteigen". Hier ist die Seite, wo man die aktuellen Zugänge nachlesen kann. An den meisten Aufgängen gibt es auch Aufzüge, der Park ist also auch für Familien mit Kinderwägen und Menschen mit Rollatoren oder Rollstühlen als Ausflugsziel bestens geeignet.
Nördlichster Zugang:
– 30th West, zwischen der 10th und 11th Ave
– Nahegelegene U-Bahn-Stationen: 34th Street – Penn Station (A, C, E) und 28th Street (1)
Südlichster Zugang:
– Gansevoort Street zwischen Washington Street and 10th Ave
– Nahegelegene U-Bahn-Stationen: 8th Ave (L), 14th Street (A, C, E) und 14th Street (1, 2, 3)
Hier noch die offizielle Seite, auf der man auch immer gute Updates bekommt: www.thehighline.org
Wir selber hatten echt einen tollen Ausflug auf der Highline und viel Spaß – trotz schwitzen :-) Mir persönlich gefällt natürlich das "public art" Projekt besonders gut. Vor allem weil derzeit gerade einer meiner Lieblingskünstler dort ein ganz tolles Werk auf eine Häuserwand gesprayed hat: JR Artist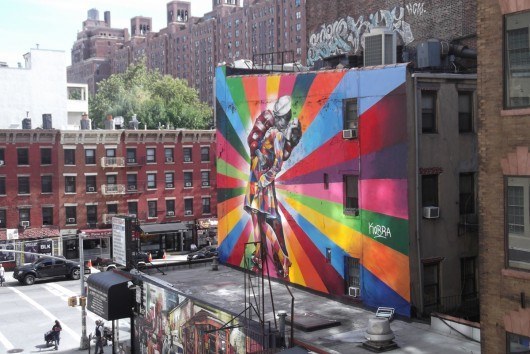 Also: jeder der uns besuchen kommt, muss wohl damit rechnen, einmal über diesen verrückten Steg über der Stadt mit mir zu laufen – da sich das Kunst-Projekt ja auch immer wieder verändert, ist das immer wieder ein toller Ausflug.
Autor: Ann Lang
Merken
Merken
Leave us a comment!