Follow our CityErleben blog to get periodic updates on the best activities with or without your kids like museums, playgrounds, festivals, free programs, day trips and weekend excursions. Get the best out of NYC tested by fellow CityKinder Moms & Dads and our contributors.
Kinderkirche Deutsche-Lutherische St. Pauls Kirche New York
Mitten in Chelsea, genauer gesagt in der 22. Straße, befindet sich die St. Pauls-Kirche – die letzte rein deutschsprachige Kirchengemeinde in Manhattan. Sie entstand 1841 durch den Zusammenschluss von zwei religiösen Gruppen und durch den stetigen Zustrom neuer Einwanderer wuchs die Kirchengemeinde in den ersten Jahren rasch heran. Die Gottesdienste wurden zunächst in einer Kirche etwas südlicher gefeiert, doch durch die rasante Entwicklung der Stadt wurde bald ein neuer Standort gesucht. So wurde das Grundstück auf der 22. Straße erworben und 1897 der Grundstein für das noch heute bestehende Gebäude gelegt.
Damals wie heute ist die Kirchengemeinde noch immer stark von Auswanderern geprägt – sei es von denen, die vor teilweise bis zu 50 Jahren mit ihren Familien in die USA gekommen sind oder denjenigen, die sich erst vor ein paar Jahren in New York niedergelassen haben. Aber auch der stetig wechselnde Strom der »Expatriots« findet in der Gemeinde ein Hause: Deutsche, die im Auftrag des Auswärtigen Amtes, großen Firmen oder der deutschen Schule für drei, vier oder fünf Jahre in New York leben. Viele dieser Familien suchen den Kontakt zur Kirche weil sie eines ihrer Kinder gerne taufen oder konfirmieren lassen möchten, oftmals kommen sie aber auch um die Kinderkirche "Senfkörner" zu besuchen. Vor einigen Jahren von engagierten Mitgliedern ins Leben gerufen, findet nun in der Regel jeden zweiten und vierten Sonntag ein separater Gottesdienst für Kinder ab 4 Jahren statt.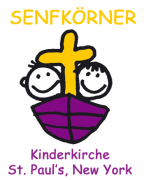 Die Kinder kommen zusammen mit Ihren Eltern zum regulären Gottesdienst um 10:30 Uhr und gehen anschließend mit den Betreuern in den Gemeindesaal. Dort wird dann gesungen, gebetet und die Kinder hören Geschichten aus der Bibel. Diese werden in Bastel-, Mal- und Rollenspielprojekten weiter vertieft bis der reguläre Gottesdienst beendet ist und alle wieder im Gemeindesaal für Kaffee und Kuchen zusammen kommen.
Vor hohen Feiertagen lässt sich das Team der "Senfkörner" immer etwas Besonderes für die Kinder einfallen, so wird z.B in diesem Jahr ein Osterkörbchen gebastelt und ab November auch wieder das traditionelle Krippenspiel einstudiert, dass dann an einem Sonntag kurz vor Heiligabend aufgeführt wird.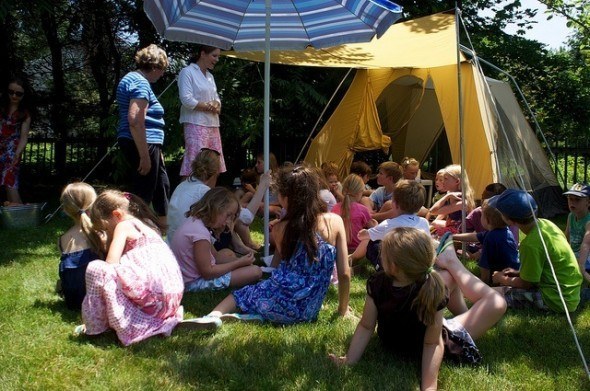 Besonders schön sind auch die beiden Gottesdienste im Freien, die im Garten des Pfarrhauses in White Plains gefeiert und mit einem Potluck-Essen abgeschlossen werden (genaue Termine finden Sie auf der Webseite der Kirche www.stpaulny.org)
Gerne baut das Team der "Senfkörner" das Angebot der Kinderkirche aus sobald das Team verstärkt wird. Bei Interesse können Sie sich gerne an Kinderkirche@stpaulny.org wenden.
Autorin: Lena Grau
Leave us a comment!