Follow our CityErleben blog to get periodic updates on the best activities with or without your kids like museums, playgrounds, festivals, free programs, day trips and weekend excursions. Get the best out of NYC tested by fellow CityKinder Moms & Dads and our contributors.
Kinderkirche in der Deutschen Evangelisch-Lutherischen St. Pauls Kirche New York
December 20th 2018, 12pm
comments: 0
In Chelsea befindet sich die letzte deutschsprachige Kirchengemeinde in Manhattan, die St. Pauls Kirche. Seit 1841 existiert die Gemeinde und verzeichnete zunächst stetigen Zuwachs durch die große Zahl an Einwanderern. Ursprünglich war der Standpunkt der St. Pauls Kirche weiter südlich, doch schon in 1897 wurde eine größere Kirche benötigt und so wurde ab 1897 das heutige Gebäude gebaut.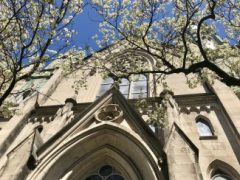 Auch heute ist die Kirchengemeinde weiterhin stark besucht – sowohl von Familien, die schon seit mehreren Generationen in New York wohnen, als auch von Familien, die erst seit ein paar Jahren oder auch nur vorübergehend in den Staaten leben.  Viele Familien die als Expats nach New York kommen suchen die St. Pauls Gemeinde auf, weil ihre Kinder getauft oder konfirmiert werden sollen, oder auch wenn Interesse an der Kinderkirche "Senfkörner" besteht.
"Senfkörner" wurde vor einigen Jahren von engagierten Gemeindemitgliedern gegründet und bietet jeden zweiten und vierten Sonntag einen Kindergottesdienst für Kinder ab 4 Jahre an.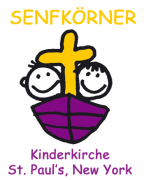 Die Kinder kommen zusammen mit ihren Eltern zum regulären Gottesdienst um 10:30 Uhr und gehen anschließend mit den Betreuern in den Gemeindesaal. Dort wird dann gesungen, gebetet und die Kinder hören Geschichten aus der Bibel. Diese werden in Bastel-, Mal- und Rollenspielprojekten weiter vertieft bis der reguläre Gottesdienst beendet ist und alle wieder im Gemeindesaal für Kaffee und Kuchen zusammen kommen.
Vor Ostern und vor Weihnachten organisiert die Kirchengemeinde etwas besonderes. Ab November wird für das Krippenspiel geprobt, das dann an Weihnachten aufgeführt wird.  Zu Ostern wird etwa ein Osterkörbchen gebastelt.
Weitere Besonderheiten sind zum Beispiel die zwei Gottesdienste unter freiem Himmel, die in White Plains gefeiert werden. Auf der Website von der St. Pauls Kirche findet ihr weitere Informationen.
Wenn ihr Interesse habt, das Team der "Senfkörner" zu unterstützen oder euch anderweitig in der Gemeinde engagieren wollt, dann meldet euch bitte bei Kinderkirche@stpaulny.org.
Leave us a comment!