Follow our CityErleben blog to get periodic updates on the best activities with or without your kids like museums, playgrounds, festivals, free programs, day trips and weekend excursions. Get the best out of NYC tested by fellow CityKinder Moms & Dads and our contributors.
Kostenlose Mitgliedschaft für den Central Park Zoo, das American Museum of Natural History etc. mit der IDNYC
March 22nd 2016, 11am
comments: 0
Im Januar 2015 hat Mayor Bill de Blasio das groesste kommunale ID Programm in den USA lanciert. Wer in New York City (in einem der 5 Boroughs) wohnhaft und mindestens 10 Jahre alt ist hat Anrecht auf eine IDNYC.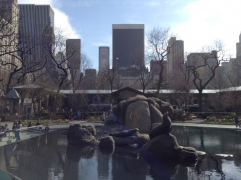 Mit der IDNYC bekommt man unter anderem eine Jahresmitgliedschaft für 40 verschiedene Museen und kulturellen Einrichtungen in NYC. Darunter sind Museen wie das MoMA und das American Museum of Natural History sowie der Bronx-Zoo, der Zoo im Central Park, das Aquarium in Coney Island und der Botanische Garten in Brooklyn.
Zudem gibt es mit der IDNYC Reduktionen auf Kinotickets, Sportanlaessen, rezeptpflichtigen Medikamenten, Fitnesscentern, Supermaerkten und sonstigen NYC Attraktionen.
Die IDNYC kann in speziellen "Enrollment Centers" in allen 5 Boroughs bis am 31. Dezember 2018 kostenlos beantragt werden und ist für 5 Jahre ab Ausstellungsdatum gueltig.
Holt euch so viele Mitgliedschaften wie moeglich, es lohnt sich! Und wenn ihr mit euren Kleinen unterwegs seid, macht es wie ich: Fasst alle Membership-Karten inklusive jene eures Partners mit einem Gummiband zusammen und verstaut sie in einer Tasche, die ihr staendig bei euch habt. Wenn ihr dann zum Beispiel im Central Park spazieren geht und eure Kinder euch 30 Minuten vor Tuerschliessung am Arm in den Streichelzoo des Central Park Zoo's ziehen moechtet, dann koennt ihr einfach die Karte hervornehmen und den Kindern die Freude des Tages bereiten.
Folgende Museen und kulturelle Einrichtungen  bieten mit der IDNYC hier eine kostenlose Mitgliedschaft fuer ein Jahr an.
Hier gibt es weitere Information zur  Beantragung der IDNYC.
Leave us a comment!