Follow our CityErleben blog to get periodic updates on the best activities with or without your kids like museums, playgrounds, festivals, free programs, day trips and weekend excursions. Get the best out of NYC tested by fellow CityKinder Moms & Dads and our contributors.
"New York Für Dich" – Liberty Statue – So nah und doch ganz entspannt
July 9th 2019, 4pm
comments: 0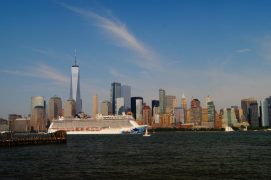 Dieser Park ist einzigartig atmosphärisch- ein Grund für uns, immer und immer wiederzukommen.
Der Liberty State Park gehört zu New Jersey. Das Besondere: Er liegt direkt "hinter" der Statue of Liberty. Das bedeutet, man kann die Lady von hinten sehen. Und das recht nah. Der Unterschied zur Insel, auf der die Statue trohnt oder auch zu Ellis Island ist der, dass die Atmosphäre herrlich entspannt ist. Man kann stundenlang auf einer Bank sitzen und hat den allerbesten Blick auf die Skyline. Man kann nur ahnen, dass nur wenige hundert Meter weiter sich viele tausend Menschen tummeln. So hat man es an der 2- meilenlangen Promenade doch so viel besser. Angestellte fahren hier über einen Brückenschleichweg mit dem Rad zur Arbeit nach Ellis Island. 
Der Park hat einen sehr großen Spielplatz, ideal für einen Ausflug mit den Kleinen. Hier treffen sich am Wochenende Großfamilien, viele mit einem Picknick bewaffnet. Barbecue ist auch erlaubt und so duftet es nach gegrilltem Hausgemachten. Nicht selten wird die Kulisse für Fotoshootings oder gleich für ganze Hochzeiten genutzt. Die Gäste feiern dann im "Liberty House", einem Restaurant mit einzigartigem Außenbereich weiter. Hier könnt ihr zum Lunch, Dinner und Kaffee einkehren.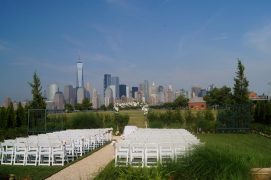 Der Park verbindet alle Familienwünsche. Mit den Kindern toben und Spielen auf dem Spielplatz und den Picknickwiesen, tolle Fotos schießen mit einmaligen Blick auf die Skyline, joggen und spazieren gehen. Und der Geheimtipp: Eis am Stiel gibt es im Seglershop am Yachthafen.
Selbst geschichtlich Interessierte kommen nicht zu kurz:
Der Bahnhof im Liberty State Park war Ausgangspunkt für zentrale Eisenbahnlinien und verband den großen Einwandererhafen zwischen 1892 und 1954 mit dem Landesinneren. Im stillgelegten und wunderschön renovierten Terminal kannst du dir gut vorstellen, wie zu Stoßzeiten mehr als 50.000 Menschen an Bord der Züge gingen und aufgeregt ihre ersten Stunden in Amerika verbrachten.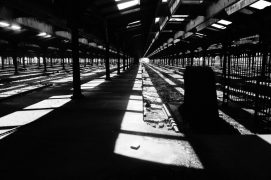 Liberty State Park ist auch per Fähre ab dem Anlieger nordwestlich des One World Tower zu erreichen (Brookfield Place Terminal to Liberty Landings). Es fahren von hier auch Fähren nach Ellis Island und zur Liberty Statue ab.
Adresse: Liberty State Park:200 Morris Pesin Dr, Jersey City, NJ 07305
Diesen und noch viele andere Tipps bekommt ihr in der App "New York für Dich", die App für den zweiten Blick, kostenlos im App Store zum downloaden.
Leave us a comment!