Follow our CityErleben blog to get periodic updates on the best activities with or without your kids like museums, playgrounds, festivals, free programs, day trips and weekend excursions. Get the best out of NYC tested by fellow CityKinder Moms & Dads and our contributors.
Thanksgiving in NYC – Macy's Parade and More
November 14th 2019, 8pm
comments: 0
Thanksgiving is around the corner. This is a day not yet celebrated in Germany, but it's a major holiday in the United States. Originally a day of giving thanks for the blessing of the harvest, it has become a popular holiday bringing families and friends together. One of the most exciting things to do on Thanksgiving in New York is the annual Macy's Thanksgiving Day Parade, a must-do not only for youngsters!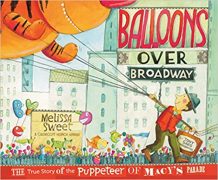 If you want to know more about the background of this spectacle, we recommend the book of Melissa Sweet, "Balloons over Broadway". A fantastic children's book that tells the story of the puppeteer Tony Sarg and his long-lasting gift to America – the inspired helium balloons that would become the trademark of Macy's Parade.
Every year the three-hour parade is held in Manhattan from 9:00 a.m. to 12:00 p.m. It starts at 77th Street and stretches along Central Park to 59th Street, Columbus Circle, where the Parade turns onto Central Park South. At 6th Avenue the Parade heads down from West 59th to West 34th Street (Herald Square) where it stops right in front of Macys. Great views can be found along the west side of Central Park from W 75th to W 59th Streets and on 6th Avenue from W 59th to W 38th Streets but you need to get up early! Early risers camp out starting at 6AM…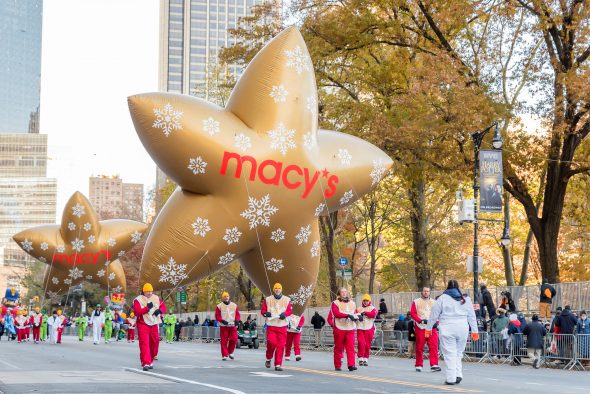 CityKinder Tip:
As it is a pain to claim the good spots for the Parade this early especially with small children, lots of New York parents prefer attending the Balloon Inflation event that takes place the day before the Parade to get a 'sneak preview' of the giant balloons as they are being filled with helium. The yearly balloon inflation takes place outside Manhattan's Museum of Natural History from 1–8 pm. Around 3pm the first balloons are beginning to take shape, so this will be a good time to visit. If you show up later in the evening, the crowds will be much larger though there will be more fully inflated balloons to see. Nothing for weak nerves or claustrophobia.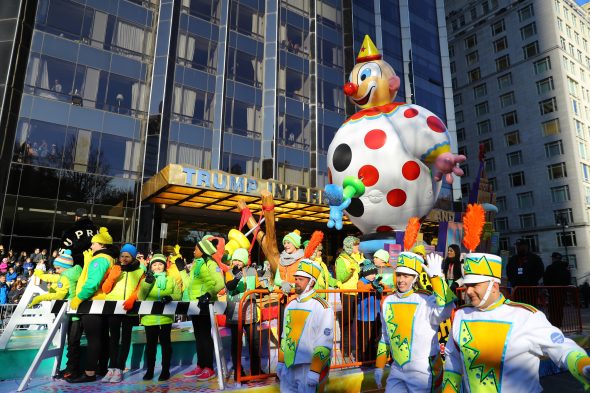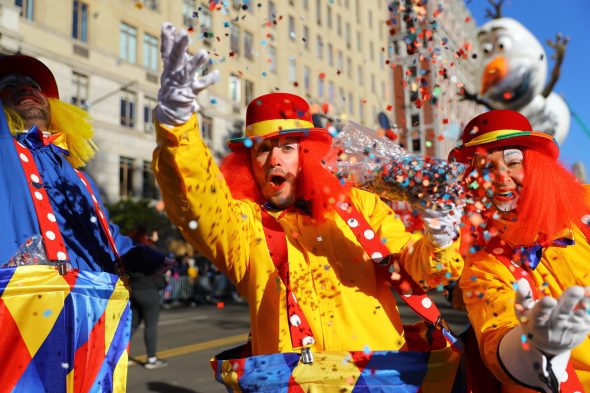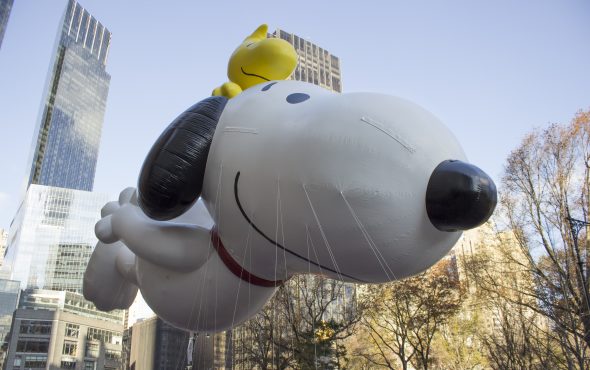 More suggestions for the holidays:
Santaland at Macy's Herald Square
From Friday, November 29th to Tuesday, December 24th
After the Thanksgiving Day Parade Santa finds his way to the famous department store where he welcomes you to Santaland – a Christmas village with elves, a magical forest and train show. Admission is free! Professional photos will be available for purchase, but they are optional. To meet Santa reservations will be required, starting November 25th.
From Sunday, December 1st through New Year's Eve
The famous Christmas displays in Dyker Hights, Broklyn traditionally turns on for Thanksgiving weekend. Get ready and arrive before 9 p.m. to catch the best show.
Saturday, November 23rd – Sunday, January 26th
New York City`s favorite Holiday tradition gets back on November 23rd. This year's show is presenting more than 175 famous New York Landmarks "imagine the Statue of Liberty, Brooklyn Bridge, Rockefeller Center, and other favorites – each delightfully re-created from natural materials such as birch bark, acorns, and cinnamon sticks". Get your tickets early!
Leave us a comment!