Follow our CityErleben blog to get periodic updates on the best activities with or without your kids like museums, playgrounds, festivals, free programs, day trips and weekend excursions. Get the best out of NYC tested by fellow CityKinder Moms & Dads and our contributors.
Six Flags Safari & Great Adventure Park
September 5th 2019, 9am
comments: 0
Im letzten Juli wurden wir im Rahmen des Betriebsausfluges meines Mannes in den Six Flags Safari and Great Adventure Park eingeladen. Der Park liegt ca. 90 Minuten südlich von Morris County, NJ und so machten wir uns schon früh auf den Weg nach Jackson, NJ. Die Vorfreude war groß – vorallem konnten wir es kaum erwarten, mit den großen offenen Jeeps auf Safari zu gehen – wer hätte das gedacht, mitten in New Jersey?!
Nachdem alle Kollegen samt Anhang und Kids eingetrudelt waren, ging es auch schon los. Einmal quer durch den Park zum Safari-Gelände. Das Positive: Wir waren als Gruppe angemeldet und durften an der langen Schlange der wartenden Parkbesucher vorbei, die sich trotz der Tatsache, dass es sich um einen Wochentag handelte und die Sonne sich nicht wirklich blicken lassen wollte, recht lang war. Da viele Kinderwagen am Rand geparkt waren, nehmen wir an, dass man diese nicht mit aufs Gelände der Safari nehmen darf (in den Park allerdings schon).
Die Jeeps standen für unsere Gruppe schon bereit; es dauerte keine 2 Minuten und man ist mitten drin, in Afrika. Leider setzte der Regen ein und wir wurden ziemlich nass. Der Fahrer durfte anscheinend im Gelände nicht anhalten, um das Verdeck des offenen Jeeps herunter zu lassen.
In Afrika gab es Elefanten, Giraffen, Zebras, Antilopen, Rinos, Emus, und viele weitere Tiere zu bestaunen und wir machten viele Fotos. Auf der gesamten Safari hatte der Safari Guide, der neben dem Fahrer an Bord war, sehr viel zu erzählen und er hat gerne jede Frage ausführlich beantwortet.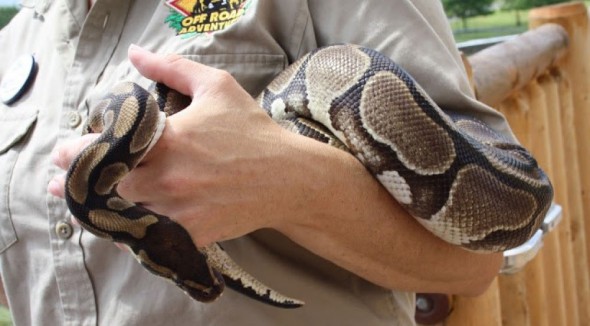 Die Schlange durften wir auch anfassen. Fühlte sich auf jeden Fall viel glibschiger an als gedacht.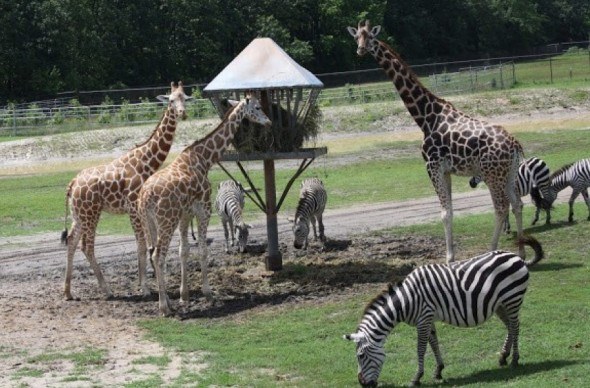 Glücklicherweise kam die Sonne bei unserem Stop an der Giraffenfütterstation schon wieder raus und wir trockneten schnell. Das Frühstücksbuffet, das für unsere Gruppe dort aufgebaut war, war sehr umfangreich und lecker – allerdings gibt es meines Wissens nach normalerweise in dem dort ansässigen Souvenirshop nichts Essbares zu kaufen. Auch kostet die Fütterung der Giraffen nochmal extra – sie ist jedoch sehr zu empfehlen. Für mich persönlich war es das Highlight des Ausfluges!! Man bekommt ein paar Möhren oder Waffeln für Eiscreme und darf mit ausgestreckter Hand die Giraffen füttern. Es war schon ein witziges Gefühl, wie warm und weich und zugleich rauh die Mäuler der Giraffen waren. Wir machten ziemlich viele Bilder und hatten eine Menge Spaß.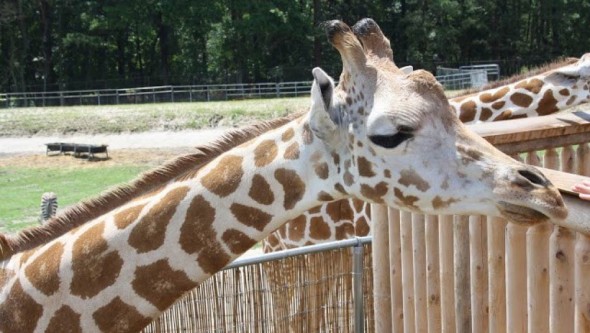 Giraffen sind ab sofort meine neuen Lieblingstiere!! Sie schlafen übrigens nur knapp zwei Stunden täglich und werden um die fünf Meter groß. Bei der Geburt sind die Kälber bereits knapp zwei Meter hoch!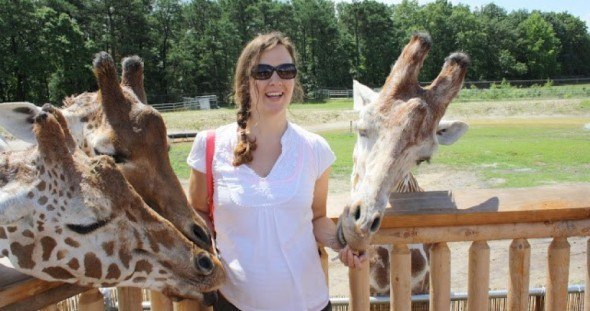 Im Anschluss ging die Safari weiter uns wir sahen Tiger, Löwen, Bären, Steinböcke, und viele Tiere, deren Namen wir noch nicht einmal kannten. Wieder waren die Geschichten des Safari Guides, diesmal ein junges Mädchen, sehr informativ.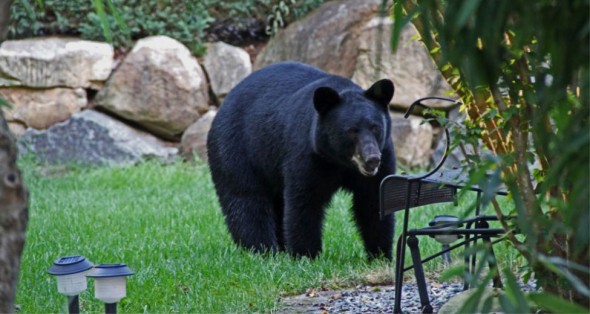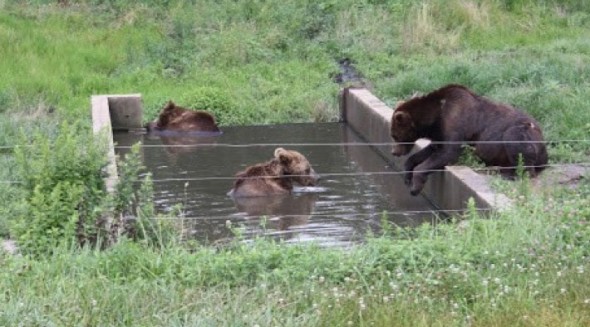 Hier sieht man ein paar Braunbären die sich im Wasser baden. Anders als in Deutschland werden frei-laufende Bären in NJ nicht verfolgt oder zum Töten frei gegeben. So kann es passieren dass auch schonmal ein Bär im Garten auftaucht. 
Am Ende der Safari verließen wir das Safari-Gelände und verbrachten den weiteren Tag im Six Flags Great Adventure Park. Leider konnten wir dort nicht viele Attraktionen in Anspruch nehmen, da ich zu der Zeit schwanger war und Schwangere ja leider nicht auf Rollercoaster und Co. zugelassen sind. Schade, denn diese Holz-Achterbahn oder auch die so genannte "Kingda Ka"- Bahn, die man im Hintergrund auf dem folgenden Foto sieht (in grün-türkies), hätten mich schon sehr gereizt.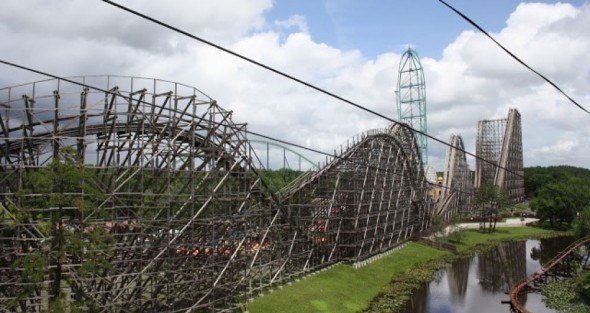 Kingda Ka ist die höchste Achterbahn der Welt und mit 128 mph die schnellste in Nordamerika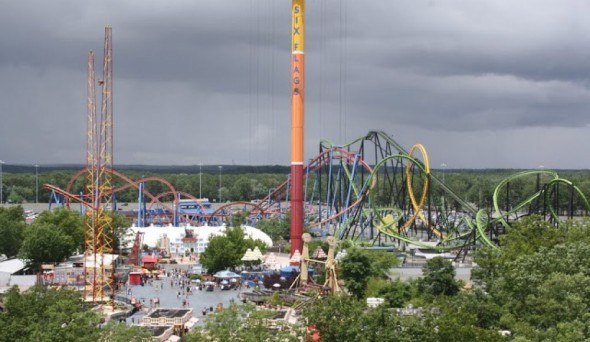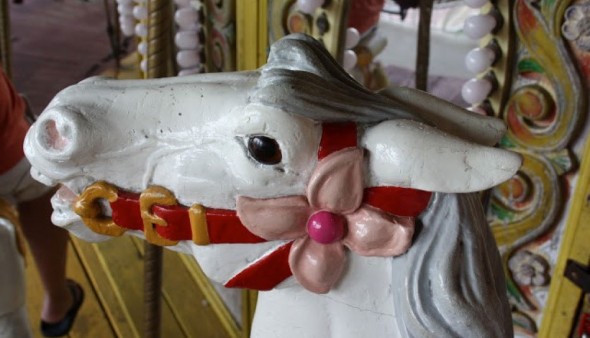 Alles in Allem hat uns der Ausflug großen Spaß gemacht! Es ist allerdings eine recht kostspielige Aktion, wenn man nicht eingeladen wird.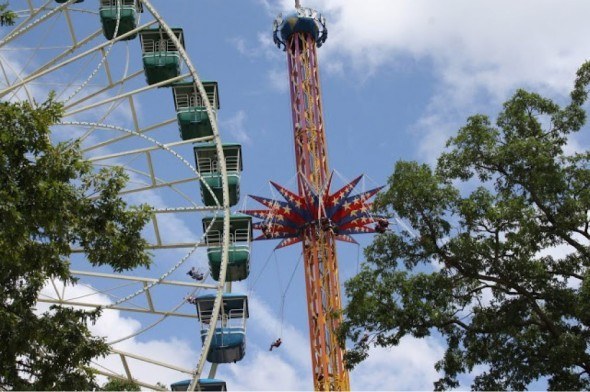 Hier gibt es noch weitere Informationen zum Ticket verkauf und special Events. 
Leave us a comment!