Got a question or need some "how-to" advice to make life in NYC smooth sailing? Review our expert blog featuring topics ranging from parenting advice, product reviews the NY school system, important laws, taxes, moving tips, and more.
Why Waldorf Education?
September 10th 2015, 10am
comments: 0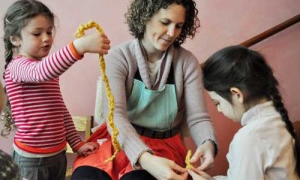 Waldorf Schools have been very popular in Germany for a long time, but the US is catching up on the benefits of their unique education approach. Today there are around 160 Waldorf Schools in the US, one of them being the Rudolf Steiner School on the Upper East Side. The school offers Early Childhood, Elementary School, and High School education. Once your child enters the Waldorf concept he or she can continue all the way to their High School diploma. What's so special about Waldorf education?
While other schools around the US are adding technology like computers and tablets to their schools, Waldorf Schools are embracing books, pencils, and blackboards. Children will be introduced to technology in many other ways, so the focus is on the heart and the hands, as well as the head.
Waldorf Schools connect children to nature, cultivate social and emotional intelligence, and ignite passion for lifelong learning. Their curriculum is impressive with an amazing selection of special subjects that include handwork, music, foreign languages, art/crafts and movement.
I found a paragraph in the article "A Silicon Valley School That Doesn't Compute" in the New York Times very interesting:
"Cathy Waheed, who is a former computer engineer, tries to make learning both irresistible and highly tactile. Last year she taught fractions by having the children cut up food — apples, quesadillas, cake — into quarters, halves and sixteenths. 'For three weeks, we ate our way through fractions,' she said. 'When I made enough fractional pieces of cake to feed everyone, do you think I had their attention?'"
Statistics have shown that Waldorf graduates do extremely well later on in life: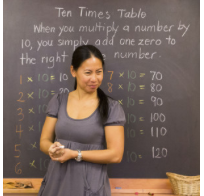 94% attended college or university
47% chose humanities or arts as a major
42% chose sciences or math as a major
89% are highly satisfied in choice of occupation
91% are active in lifelong education
92% placed a high value on critical thinking
90% highly values tolerance of other viewpoints
The Rudolf Steiner school is also one of the few middle and high school options in New York with a very strong German language program. If your family is on the move a lot, you can seamlessly transfer to other Waldorf schools around the world and build on your child's education.
If you are interested in learning more about Waldorf education visit the Rudolf Steiner School on Thursday, April 9th, 2015 from 6.30PM – 8PM for their Spring Open House for grades 7 – 12. REGISTER HERE
For lower school tours REGISTER HERE 
Rudolf Steiner School
15 East 78th Street
New York, NY 10075
To stay up to date on events and more Like them on Facebook!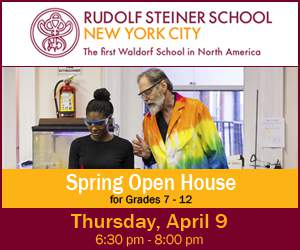 Leave us a comment!