Curious who else is living in NYC? We are, too! We feature moms and dads from all walks of life with interesting stories, businesses, and family constellations. See who's in town, what they love about NYC, and why they stay.
Sebastian Muenkwitz – "Culinary Arts" Chef
January 14th 2019, 8pm
comments: 0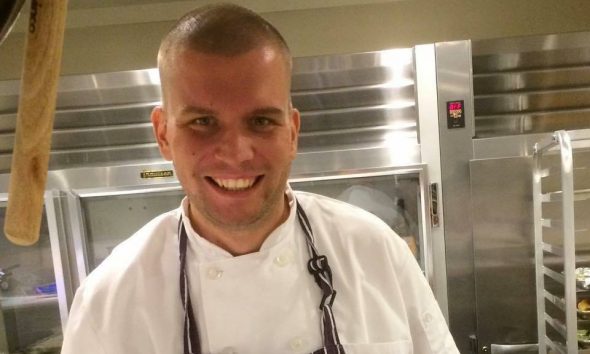 Sebastian Muenkwitz hat in Deutschland seinen Bachelor in "Culinary Arts" gemacht, und sich danach auf die deutsche, mediterrane und amerikanische Küche spezialisiert. Nachdem er unter anderem mit dem TV-Koch Rainer Strobel und in Michelin-Star nominierten Restaurants gearbeitet hat, ist er nun in New York als "Private Chef" und Caterer selbständig. Er wohnt mit seiner kleinen Familie auf Long Island.
Sebastian, du bist in Deutschland groß geworden. Was hat dich nach Amerika verschlagen?
Durch meinen Job bin ich viel gereist und habe verschiedene Länder, Kulturen und Küchen kennengelernt. Amerika sollte eigentlich der letzte Auslandaufenthalt werden, aber das Schicksal wollte es anders. Es war eigentlich nie geplant  länger als ein Jahr hier zu bleiben. Fazit, der Beruf hat mich hierher verschlagen – aber die Liebe hat mich hier gehalten.
Was machst du genau beruflich?
In der Woche arbeite ich als Chefkoch für die FliK Hospitality in einer Privaten Schule an der Upper West Side. Und am Wochenende kann man mich als private Chef für kleinere und größere Feierlichkeiten buchen. Ich koch sehr gerne frische und gesunde Gerichte mit einem modernen touch.
Hast du dich vorher schon viel mit Amerika beschäftigt? Was wäre dein Wunschland gewesen?
Nicht wirklich viel. Ich wollte eigentlich immer nach Australien. Amerika kannte man halt nur vom TV und den Nachrichten.
Kochst du für deine Familie eher deutsches oder eher amerikanisches Essen? Wird auf Familienfesten von dir etwas "typisch deutsches" verlangt?
[lacht] Ich koche alles und zum Glück essen sie auch alles. Leider sind die Amerikaner der Meinung, dass  deutsches Essen nur aus Sauerbraten und Schweinshaxe mit viel Bier besteht. Ich koche sehr international mit frischen und guten Produkten und würde meinen Stil in keine kulinarische Ecke drücken lassen. Klar haben wir Bratwurst, Gulasch oder Apfelstrudel auf unserem Essensplan, aber nicht andauernd.
Du hast ja schon in Europa viel als Chef gearbeitet. Was war deine bedeutendste Erfahrung?
Es ist immer faszinierend zu sehen, wie verschiedene Charaktere und verschiedenen Kulturen zusammen kommen und hervorragende Gerichte kochen, egal wo auf der Welt. Ich denke, das macht den Beruf so interessant.
Inwieweit unterscheidet sich deine Arbeit in Amerika von der in Deutschland? Merkst du den kulturellen Unterschied?
Ganz klar JA. Hier ist jeder Koch, auch ohne Ausbildung. Mein Handwerk wird hier nicht so geschätzt wie das in Europa der Fall ist. In Amerika ist man 3 Monate in einer Schule und dann will jeder Küchenchef oder Stellvertreter sein, auch ohne jegliche Erfahrung.
Was inspiriert dich in der Küche? Bist du viel von deiner Heimat und deinen Reisen geprägt?
Ich mag es mit guten und saisonalen Produkten zu arbeiten . Außerdem sollte man nur das machen, was man kann oder wenn man weiß, wie es geht und nicht in Selbstüberschätzung leben.
Ist dir die deutsche Küche in Amerika wichtiger geworden, als es dir in Deutschland war?
Nein! Ich mag gutes essen zubereitet mit Liebe und Respekt zum Produkt und Handwerk. Da  ist es egal, ob es daheim gekocht ist oder in einem Sternelokal.
Was verbindet dich in NYC sonst noch mit Deutschland außer das Kulinarische?
Die Liebe zum Fußball und das weitergeben der deutschen Traditionen. Ich habe den FC Bayern München Fan Club of Long Island ins Leben gerufen und dort wird Deutsch – Amerikanische Tradition gelebt. Mit Stammtischen, Bier und Support für unser Team. Außerdem sind wir auch sehr engagiert in der Community, mit vielen Wohltätigkeitsveranstaltungen über die vergangenen Jahre. Auch wenn Bayern nicht jedermanns Team ist, eine Reise ist es allemal wert und aufgrund der guten Übertragung kann man bei uns auch fast jedes anderes Team sehen.
Du möchtest Sebastian buchen? 
Du kannst Sebastian für Deine privaten und Business-Events buchen wie runde Geburtstage, BabyShower, Ein – und Ausstände und vieles mehr. Erwähne "CityKinder" und diesen Artikel für 15% Discount auf seinen Service.
[
webseite
/
Kontakt
]
Leave us a comment!