Follow our CityErleben blog to get periodic updates on the best activities with or without your kids like museums, playgrounds, festivals, free programs, day trips and weekend excursions. Get the best out of NYC tested by fellow CityKinder Moms & Dads and our contributors.
Cold Spring: Ein Tagestrip von Manhattan ganz ohne Auto
May 23rd 2019, 10am
comments: 0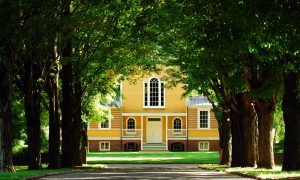 Auf der Suche nach einem Tagestrip von NYC ohne Auto sind wir auf Cold Spring im Hudson Valley gestoßen. Wieder einmal hat uns das schöne Hudson Valley nicht enttäuscht, und wir hatten einen sehr schönen Tag. Die Zugfahrt von Grand Central dauert gerade mal 75 Minuten und ist dazu noch wunderschön. Sobald man Manhattan hinter sich gelassen hat, führt die Strecke großteils direkt am Hudson entlang.
Cold Spring ist ein zauberhafter kleiner Ort mit vielen Antiquitätenläden, netten Cafes, Restaurants und einer angenehmen Gemütlichkeit.
Nachdem wir etwas durch Cold Spring geschlendert sind, haben wir uns auf den Weg zu unserem eigentlichen Ziel gemacht:  Boscobel.
Boscobel ist ein wunderschönes Herrenhaus, das verlegt und restauriert in diesem großartigen Park einen Platz gefunden hat. Die Lage ist grandi0s und die Aussicht auf den Hudson und die umliegenden Berge atemberaubend. Nach einem Picknick mit herrlichster Aussicht kann man noch eine Weile in dem großen Park spazierengehen, durch Rosen, Obst- oder Kräutergarten schlendern oder einfach die herrliche Aussicht genießen. Das geschichtsträchtige Haus wurde zu einem Museum umgebaut und kann mit Führungen besichtigt werden.
Von Cold Spring nach Boscobel und weiter nach Garrison (Bahnhof) verkehrt ein kleiner grüner Trolley. Für 1 USD pro Erwachsenen kann man damit z.B. von Boscobel nach Garrison zum Bahnhof fahren.
Auch sportlich hat Cold Spring was zu bieten: von Fahrradtouren, über Wanderungen bis zu Kajakausflügen auf den Hudson ist alles möglich.
Ein toller Ausflug (ganz ohne Auto und Stress) und mit viel Natur und tollen Eindrücken!
Alle Details zu Öffnungszeiten, Preisen, Führungen, Geschichte, Veranstaltungen uvm. finden sich auf der Website: www.Boscobel.org
Anreise: Metro-North. Alle Informationen hierzu auf der MTA-Website.
Leave us a comment!