Follow our CityErleben blog to get periodic updates on the best activities with or without your kids like museums, playgrounds, festivals, free programs, day trips and weekend excursions. Get the best out of NYC tested by fellow CityKinder Moms & Dads and our contributors.
Endlich Erdbeerzeit in NY
May 28th 2019, 10am
comments: 0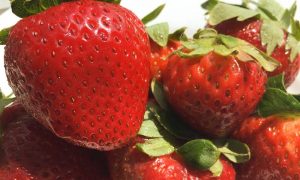 Freut ihr euch auch so wie wir, dass die Erdbeerzeit wieder begonnen hat? Und würdet ihr gern, wie ihr es von daheim kennt, mit den Kindern selbst zum Pflücken aufs Feld gehen? – Kein Problem, auf vielen Farmen im Raum New York könnt ihr das – und noch mehr!
Zusätzlich gibt es oft auch andere Früchte zum selbst pflücken und weitere Attraktionen für Kinder und Eltern wie Heulabyrinthe, Streichelzoos oder Weinverkostungen:
In Connecticut
In New York State
Auf Long Island
In New Jersey
Je nach Wetterlage kann es sein, dass die Felder zeitweise nicht geöffnet sind, also informiert euch am besten auf der jeweiligen Internetseite oder per Telefon, bevor ihr aufbrecht!
Strawberry Festivals
Ihr wollt lieber nicht selbst pflücken, aber die süßen Früchtchen trotzdem gern in ländlicher Atmosphäre genießen?
Dann besucht doch eines der Strawberry Festivals, die an den nächsten Wochenenden stattfinden:
Alstede Farms Strawberry Harvest Festival (1./2., 8./9. & 15/16. Juni)
1 Alstede Farms La., Chester, NJ
Geboten werden verschiedenste Leckereien zum vor Ort genießen und mit nach Hause nehmen und außerdem einige Attraktionen für Kinder, wie ein Besuch bei den Bauernhoftieren oder Pony reiten.
Nassau County Strawberry Festival (30. May.-2. Juni)
BOCES Jerusalem Ave., Newbridge Rd., Bellmore, NY
Mit Live Musik, einer Craft and Gift Show und vielem mehr!
Beacon Strawberry Festival (9. Juni)
2 Red Flynn Dr., Beacon, NY
Ihr wollt ein Erdbeerfestival besuchen und nebenbei noch etwas karitatives tun? Dann seid ihr hier richtig! Ein Teil der Einnahmen geht an soziale Zwecke!
Strawberry Fair at Benner's Farm (8.-9. Juni)
56 Gnarled Hollow Rd., East Setauket, NY
Wie auf allen anderen Festivals, gibt es natürlich auch hier einiges für Schleckermäuler, aber auch Musik und diverse Spiele für Kinder, wie Löffellauf, Schubkarrenrennen oder einen Kaugummiblasen-Wettbewerb.
Mattituck Lions Club Strawberry Festival (13.-16. Juni)
1175 Rte. 48, Mattituck, NY
Eines der Highlights auf dem Festival in Mattituck, das dieses Jahr schon zum 65. Mal stattfindet, wird das Feuerwerk sein. Daneben gibt es auch hier Live Musik und vieles mehr.
Leave us a comment!