Follow our CityErleben blog to get periodic updates on the best activities with or without your kids like museums, playgrounds, festivals, free programs, day trips and weekend excursions. Get the best out of NYC tested by fellow CityKinder Moms & Dads and our contributors.
"New York Für Dich" Curry Hill – Little India in Manhattan
February 22nd 2019, 9am
comments: 0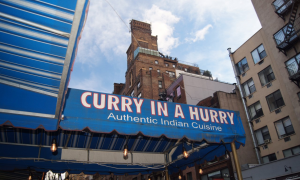 Für jeden Gaumen ist etwas dabei in New York. Wenn ihr keine Berührungsängste habt, dann auf zum Curry Hill.
Dort reihen sich indische Gewürzgeschäfte und Restaurants aneinander. Die Nase staunt ob der Gerüche, das Auge ob der bunten Farben. Natürlich steht der Curry im Vordergrund, doch auch hunderte anderer Gewürze und Tees sowie süße, bunte Nachtische sind Teil der Auslage.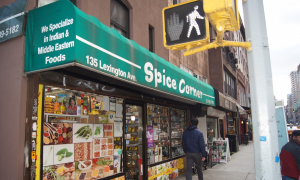 Doch noch Berührungsängste? Dann lasst die Profis machen und genießt das Essen in einem der zahlreichen Restaurants. Wir mögen vor allem das Saravanaa Bhavan. Es ist ein vegetarisches Restaurant, eigentlich sogar eine Kette (u.a. in Thailand, Malaysia und in den Vereinigten Arabischen Emiraten vertreten) direkt an der Ecke 26th Street und Lexington. Empfehlen können wir das South Indian Thali. Verschiedene Brotvarianten, meist fritiert, werden mit frischen Dips und Pasten kombiniert. Zum Essen trinkt man einfach Wasser oder indische Lassis (Joghurtgetränk in den Geschmacksrichtungen süß, salzig oder mit firschem Mango).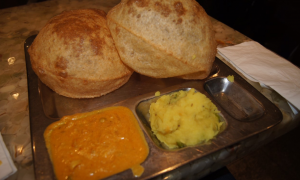 Nach dem Essen ist man dann vielleicht mutiger geworden und schaut in einem der zahlreichen Gewürzläden vorbei. Möchte man doch zu Hause ausprobieren, was man gerade gegessen hat. Falls ihr euch nun überfordert fühlt von der Vielzahl der Gewürze, die nicht unbedingt in englischer Sprache ausgewiesen sind: Der Ladenbesitzer freut sich, euch in die indische Gewürzküche einzuführen und steht gerne mit Tipps zur Seite.
Unser Tipp hier: In kleinen Dosen Pasten kaufen anstelle von einzelnen Gewürzen. Die Pasten sind Gewürzmischungen, die euch querbeet durch die indische Küche fuehrt. Zu Hause nur noch mit Fleisch, Gemüse und Kokosmilch kochen, und ihr habt immer und spontan ein indisches Gericht.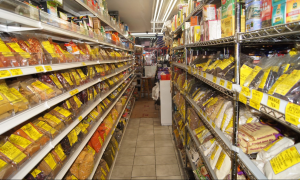 Den Curry Hill erreicht ihr zu Fuß in wenigen Minuten vom Empire State Building. Herzstück ist der Abschnitt zwischen 26th und 29th Street auf der Lexington Ave.
Diesen und viele andere Tipps abseits vom Mainstream findet ihr im App "New York für Dich", kostenlos herunterzuladen, aktuelles im New York Blog oder auf Facebook und Instagram.
Leave us a comment!