Follow our CityErleben blog to get periodic updates on the best activities with or without your kids like museums, playgrounds, festivals, free programs, day trips and weekend excursions. Get the best out of NYC tested by fellow CityKinder Moms & Dads and our contributors.
Schweizer Seilbahn in New York City
November 1st 2018, 12pm
comments: 1
Eine super Aussicht für kleines Geld? Ein wunderschöner und kinderwagen-tauglicher Ausflug ist es, mit der Roosevelt Island Tramway über den East River nach Roosevelt Island zu fahren.
Die 4 Minuten-Fahrt bietet seinen Passagieren eine spektakuläre Aussicht und kostet nur $ 2,25 pro Strecke.
Die Roosevelt Island Tramway ist die älteste von zwei Luftseilbahnen in den USA. Sie wurde 1976 von einen Schweizer Unternehmen gebaut und 2010 durch ein französisches Seilbahnsystem ersetzt. Jede Kabine bietet (beheizten) Platz für 125 Personen und macht rund 115 Fahrten pro Tag, an den Wochenenden etwa 100. Die Seilbahn fährt mit 16 Meilen pro Stunde über das 3.100 Meter lange Seil.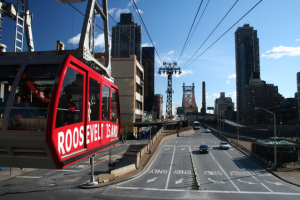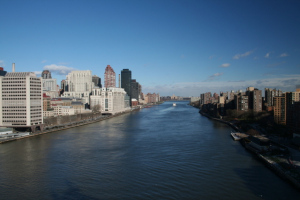 Auf ihrem höchsten Punkt steigt sie auf 250 Meter über dem East River. Zwei Kabinen fahren alle 15 Minuten von 06.00 Uhr bis 02.30 Uhr (3:30 Uhr am Wochenende).
Auf Roosevelt Island kann man praktisch ohne Autoverkehr prima spazieren gehen. Die Insel beherbergte ursprünglich Straf- und Krankenanstalten, wie das für seine Zustände berüchtigte New York City Lunatic Asylum.  Im Süden der Insel entstand wegen der isolierten Lage das Smallpox Hospital, dessen Ruinen heute noch stehen. 1968 beschloss man die ungenutzten und verfallenden Gebäude niederzureißen und die Insel in ein Wohngebiet umzugestalten.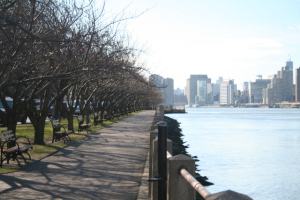 Als die Fertigstellung der Wohnblöcke nahte und die geplante U-Bahnverbindung noch nicht fertig war, baute man 1976 als provisorische Lösung eine Seilbahn, die bis zur Fertigstellung der U-Bahn im Jahre 1989 die wichtigste Verbindung blieb.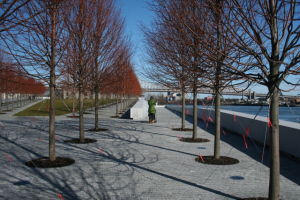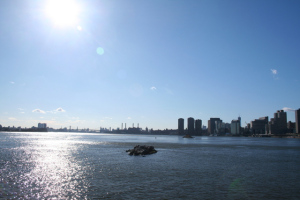 An der Südspitze  der Insel befindet sich seit Oktober 2012 der "Four Freedoms Park", der an eine Rede Roosevelts vom Januar 1941 zu den "Vier Freiheiten" erinnern soll. Es ist ein sehr schöner neugemachter Park umgeben von Wasser, leider ohne Spielplatz, aber dennoch mit viel Platz zum Laufen. In der Nähe der Seilbahnstation gibt es einen Starbucks, eine Drogerie und ein paar Restaurants.
Wegbeschreibung:
Die Seilbahn fährt ab 59th Street & Second Avenue Station.
Die Fahrt kostet 2,25$ mit der Metrokarte ($4 für eine Rundreise). Senioren und Behinderte zahlen 1$ pro Strecke.  Auf der Insel fährt außerdem ein roter Kleinbus, der einen für 25 Cent mitnimmt!
Offizielle Webseite der Roosevelt Island Tramway
Offizielle Webseite des Franklin D. Roosevelt Four Freedoms Park
Öffnungszeiten des Parks:
Donnerstag – Sonntag, 9-17h.
Leave us a comment!