Got a question or need some "how-to" advice to make life in NYC smooth sailing? Review our expert blog featuring topics ranging from parenting advice, product reviews the NY school system, important laws, taxes, moving tips, and more.
5 things I wish I had known about moving to New York
August 20th 2019, 2pm
comments: 0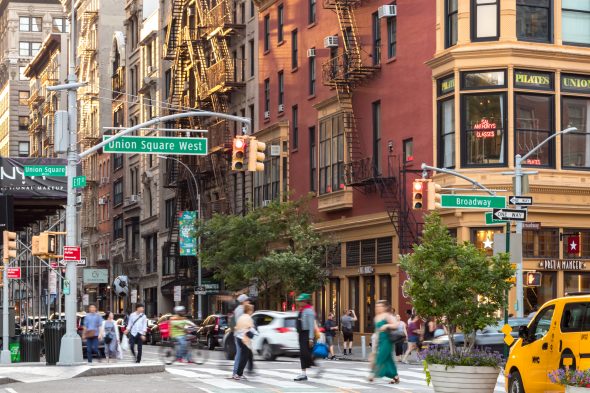 When my husband asked me if I could imagine living in New York for a few years, I felt a tinge of excitement and adventure. I envisioned extraordinary modern architecture, the skyline (still breath-taking, especially by night), the hustle and bustle of a city that never sleeps and thousands of yellow cabs. I pictured myself riding my bike over the Brooklyn Bridge with our dog sitting in the basket in front of me – I was happily excited.
At first, the reality behind my visions of the Big Apple truly shocked me – I found myself confronted with fenced trees, patched roads, an ancient metro system, a noise level that I never experienced before, and extremely dirty streets. (Maybe I should mention that we moved to New York from Munich where the streets and boardwalks are getting cleaned at least once a day.)
While the first weeks in our new life felt like vacation, reality caught up with me when my husband began to work and the moving container arrived. Trying to fit our belongings in a way smaller apartment than the one we had back in Germany almost triggered a divorce. "It's different." Was my answer when someone asked me how I liked living in New York, and "it's definitely outside my comfort zone". Meanwhile I learned to adjust to my new environment, but sometimes I wish I had known a bit more about what it takes tobe an expat partner in a new city like New York.
Here are the 5 things that challenge(d) me the most:
Social environment, cultural differences and making new friends
Of course, I knew that there is no way to bring all our friends and family along to the states (except one of our best friends, our dog),but I couldn't imagine that it would be so tough to stay in touch. While I received numerous messages every time I turned on the phone in the beginning of our time in New York, replies are getting rarer these days. An even harder task is making new friends, especially if I tried to reach out to Americans. At this point, I have to interject the famous story about the peach and the coconut our cultural trainer brought up. It claims that Americans are like peaches: soft on the outside, but the core is hard to break. It's easy to have a great time with them, a friendly chat, a laughter – super friendly but superficial (I love to be called honey or darling at the cashier though). In contrast, Germans are said to be like coconuts, hard to get through at first but soft inside. Once you break the shell, you will have a friend forever. Maybe that's why expats always find each other – we even have German neighbors, but this was a coincidence.
Grocery shopping
"Unexpectedly challenging" – that's how I would describe grocery shopping in New York. While I used to love strolling through the 'Bioladen' in our neighborhood, knowing for sure I could get all the food on my shopping list I must now plan my shopping tour around the things I need and where to get them. And then I need to get them home, packed like a donkey. The only good thing about the different stores, generally in opposite directions, are the numerous steps collected on my health app. I never walked this far. Somedays it feels like collecting berries while my man is hunt…um…working.
Medical system, insurance, pharmacy and doctor's appointments
In network, out of network, copays, deductibles…to be honest, I still don't understand the American healthcare system. When I first needed to see a doctor because of an infection, I ended up in a room with no windows or any medical devices. Believing that this is one of the most medically advanced countries in the world was hard for me at this moment. Getting the prescribed medication was a similar experience. But you get used to the fact that most of the medications you can get over the counter in Germany must be prescribed by your doctor – I even needed a prescription for prenatal vitamins. Meanwhile I'm no longer anxious to schedule a doctor's appointment, it's just different. Whoever visited an OBGYN here in the states knows what I'm talking about.
Sustainability challenge – plastic bags, straws, coffee cups…
We moved to New York just when the debate about reusable coffee mugs was in the media all over Germany. The first time I realized what it means to get two cappuccino "to-go" every day was when I took out the garbage on a Friday night in my office. There was nothing that showed we were working there all week long, except for a trashcan full of empty coffee cups. And we were only two people too lazy to make coffee on our own. The Monday after, I got my very own reusable cup which I'm proudly still using. When we walked through the streets of New York, I was shocked to see all these people with their coffee cups – plastic, paper, and straws – I was determined to bring reusable cups to every coffee shop in the city. It hasn't quite worked out that way, but I'm determined to make up for it by avoiding plastic bags, straws, coffee cups, Nespresso and unsustainable packaging as much as I can.  What can I say…it won't be easy.
Living with a dog in New York
Before we moved, my husband always told me that there would be more dogs in New York than people. "Americans love dogs!", he said. And I believed him. We searched for the most dog-friendly borough and ended up living in Park Slope (or Bark Slope as it is lovingly called among the residents). Indeed, Americans love dogs but not in their restaurants, bars, cafés, pharmacies, buses, trains (except when you carry them in a bag) and we even got thrown out from the post office several times (and I tried a few). I had no idea about the challenge of owning a dog in New York City compared to Germany. But the most ridiculous rule are the off-leash hours in most parks. You can let your dogs off the leash from 5 to 9 am and 9 to 12 pm, but only in certain areas. I totally understand that on a nice and sunny day, no one wants a dog to steal food from the picknick blanket, but police enforcing leash rules even when it's raining or in the wintertime? Seriously?
I could easily add more things I wish I had known about moving to NYC as an expat partner, but I decided to stop complaining and start accepting instead – at least in a way that feels good for me. "It's different", I used to say. Indeed, it is! But it's also enriching, eye opening, promoting tolerance, personally growing, strengthening…and wonderful, just different.
Leave us a comment!