Got a question or need some "how-to" advice to make life in NYC smooth sailing? Review our expert blog featuring topics ranging from parenting advice, product reviews the NY school system, important laws, taxes, moving tips, and more.
Wo gibt es das beste Brot in NYC?
February 12th 2020, 3pm
comments: 1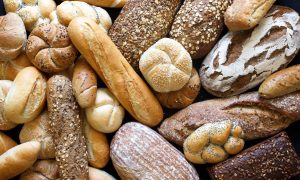 Wir sind uns ganz sicher, dass euch das Wasser im Mund zusammen läuft, wenn ihr diesen Artikel lest. Es geht um etwas ganz besonderes – frisches Brot.
Es ist das Lebensmittel, das der Deutsche im Ausland  am meisten vermisst. Natürlich kann man in jedem Supermarkt Brot kaufen, aber wir suchen ja DAS Brot. Frisches Brot mit einer richtigen Kruste. Ein Brot, das nicht komplett weiss ist und vielleicht sogar noch ein paar Körner hat….
Wir haben uns ganz uneigennützig und nur für euch (Ehrenwort!) durch die Bäckereien von New York und Umgebung gefuttert und die besten Bäckereien entdeckt. Danke auch, für die vielen Tipps von unserer Facebook Community.
Manhattan
Breads Bakery 
Locations:
Union Square
Bryant Park Kiosk
Lincoln Center
Diese Bäckerei ist auf handgemachte, mit traditionellen Backtechniken gebackene Brote spezialisiert und die Brote bestehen meist aus Vollkorn. Es gibt auch einen Catering Service sowie einen Delivery Service.
Amy's Bread 
Locations:
Hell's Kitchen
Chelsea Market
Amy's Bread at the New York Public Library
Amy's Bread existiert bereits seit 1992 und hat zuletzt eine Auszeichnung bekommen als einer der 10 besten Bread Bakers in America by Dessert Professional Magazine. Das Brot wird mit traditionell europäischen Methoden und ohne künstliche Zusatzstoffe gebacken.
Neben Brot gibt es auch noch leckeren Kuchen und Mittagessen, wie Paninies und Salate.
Orwashers Bakery
Locations:
Orwashers verwenden Mehl von lokalen Landwirten im Norden des Bundesstaates New York und produzieren in ihrer staatlichen Einrichtung in der south bronx. Neben Brot wird auch köstliches Gebäck serviert.
Grandaisy Bakery
Location:
Diese Bäckerei hat drei Preise bei der "Tiptree World Bread Awards USA" in 2018 gewonnen. Neben Brot bietet die Grandaisy Bakery auch pastries, Pizza und Catering an.
Brooklyn
Orwashers Bakery
Locations:
Bakeri 
Locations:
Diese Bäckerei verkauft ein Brot, das "Vollkorn" genannt wird. Könnte es noch deutscher sein?
Northside Bakery 
Große Auswahl an unterschiedlichen Broten, Brötchen und Kuchen/Torten.
Queens
La Boulangerie 
Bäckerei nach europäischer Art, die Brot und sogar "Berliner" oder "Krapfen" serviert.
GianPiero 
Location:
Sie bieten verschiedene Arten und Größen von Brot an. Alle werden mit einer natürlichen Grundmasse hergestellt. Pane di Casa, Panella Lucana, französische Baguettes, Ciabatta, Ciabattine, Crusca, Tavola, italienische und Grießbrote sowie verschiedene Brötchenauswahl.
New Warsaw Silver Bell Bakery
Ihr könnt sie an ihrem neuen Standort in Queens besuchen oder sogar euer Lieblingsbrot online bestellen.
Bronx
Terranova Bakery
Seit 1967 arbeitet die Bäckerei Terranova mit einem einzigartigen Ziel: die besten Brotprodukte mit den höchsten Standards zu liefern und gleichzeitig einen Service von höchster Qualität zu bieten. Man kann auch ausgewählte Produkte online bestellen.
Madonia Bakery 
Seit 100 Jahren stellt die Madonia Bakery in der Arthur Avenue, einer italienisch-amerikanischen Institution in der Bronx, das authentischste und köstlichste Brot und Gebäck her.
NYC Umgebung
Old German Bakery – Hoboken
Der Name sagt hier schon alles! Hier gibt es alles was das deutsche Brotherz begehrt. Von Brot und Brötchen über Kuchen und Teilchen. SAU LECKER!
Rockland Bakery – Rockland County NY
Diese Bäckerei ist ein beliebtes Ausflugsziel weil es einen "Bagel Train" hat. Die frisch gebackenen Bagels und Brote fahren an der Decke auf einem Maschinenband zum abkühlen entlang und können dort auch direkt eingepackt und mit nach hause genommen werden. Leckeres, warmes frisches Brot!
Wave Hill Breads – Norwalk, CT
Wave Hill Breads glaubt an die Herstellung von köstlichem, hand gebackenem Brot mit Zutaten, die unsere Großmutter benutzen würde. Darunter viele Bio Vollkorngetreide, die direkt in der Bäckerei gemahlen werden
Good Bread Bakery – Port Chester NY, Stamford CT und "Good Bread Direct" in Rye
Die Familie Beldotti ist seit 1985 in der Bäckereibranche tätig und setzt sich stark für Qualitätsbackwaren und guten Kundenservice ein.
Farmers Markets: 
Auf den meisten Wochenmärkten in NYC und Umgebung gibt es leckeres Brot zu kaufen. Hier gibt es eine Übersicht von den Wochenmärkten https://www.grownyc.org/greenmarket . Dort gibt es neben leckerem Brot auch noch viele weitere frische Lebensmittel zu kaufen, die von lokalen Bauern hergestellt und vertrieben werden.
Super Markets: 
NetCost Markets
Locations in Brooklyn, Staten Island, New Jersey and Pennsylvania. Die Brote haben eine Flagge drauf, aus welchem Land sie kommen. Wir nehmen natürlich das deutsche Brot!
Lidl Supermarkt
Wer Sonntag Morgens Broetchen & Brezen vermisst, kann bei Lidl vorsorgen. Es gibt sie frisch und zum Aufbacken!
Falls ihr lieber selber backen wollt oder online euer Brot bestellen möchtet, gibt es hier auf HeimatAbroad weitere gute Tipps! Und wenn eure Lieblingsbäckerei hier noch nicht dabei ist, dann schreibt doch einfach einen Kommentar unter diesem Beitrag.
Leave us a comment!