Follow our CityErleben blog to get periodic updates on the best activities with or without your kids like museums, playgrounds, festivals, free programs, day trips and weekend excursions. Get the best out of NYC tested by fellow CityKinder Moms & Dads and our contributors.
Mit der Subway nach Coney Island
January 17th 2019, 11am
comments: 0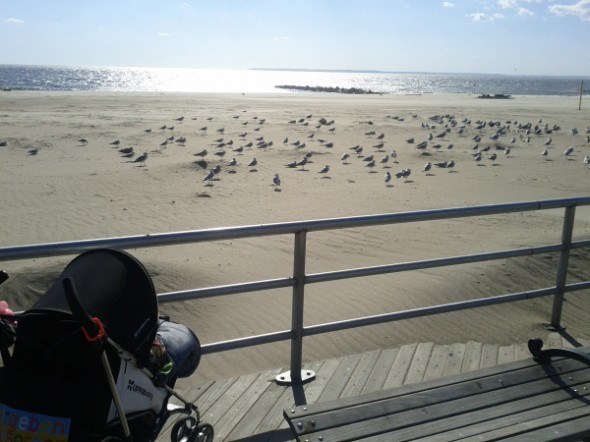 An den Strand im Winter? Ich wollte schon immer mal mit der U-Bahn an den Strand fahren und dort spazieren gehen. Da eine Stunde Zugfahrt sehr lang scheint mit einem einem 14 Monate alten Kind, hatte ich mich bislang nicht getraut. Am vorletzten Sonntag haben wir es aber gewagt und siehe da, es war ein wunderbarer Ausflug!
Ab Times Square/42. Street fuhr uns der Q-Train in 62 Minuten an den Strand von
Coney Island
. Auf dem Hinweg schlief meine Tochter im Kinderwagen, aber auf dem Rückweg profitierten wir davon, dass die Bahn die Hälfte der Strecke oberirdisch fährt und man eine schöne Aussicht auf Straßen und Dächer hat (mit noch mancher Weihnachtsdekoration)  und dann auf das Meer! So fühlt sich die Fahrt gar nicht mehr so lang an.
Wir sind bereits Ocean Parkway ausgestiegen, von dort läuft man ca. 3 Minuten die Straße runter und… man ist am Strand!!Eine schöne Holzpromenade und ein leerer Sandstrand mit vielen Spielplätzen erwarteten uns. Meine Tochter kann seit zwei Monaten laufen und hatte hier viel Platz zum Rennen.
Die Kirmesattraktionen und alle Geschäfte hatten geschlossen, aber ein paar Restaurants hatten geöffnet. Zu Mittag gegessen haben wir bei 
Tom's Coney Island
, einem sehr kinderfreundlichen American Diner mit Burger & Co, alles frisch und lecker.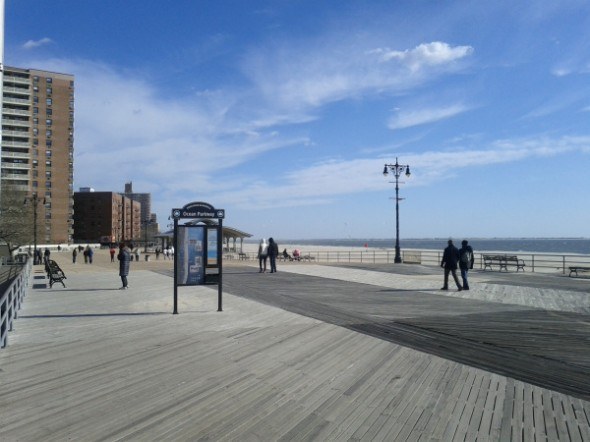 Anfahrt
Mit den Linien D, B, F  oder N, Q bis Brighton Beach, Ocean Parkway, West 8 Street NY Aquarium oder Coney Island Stillwell Avenue.
Restaurant:
Tom's Coney Island
1229 Boardwalk W
Brooklyn, NY 11224Es gibt in Coney Island sicherlich noch einiges mehr zu erleben und zu entdecken. Hat jemand Tipps?
Hier sind noch
informative Webseiten:
coneyislandfunguide.com
www.coneyisland.com
Leave us a comment!