Follow our CityErleben blog to get periodic updates on the best activities with or without your kids like museums, playgrounds, festivals, free programs, day trips and weekend excursions. Get the best out of NYC tested by fellow CityKinder Moms & Dads and our contributors.
Top 5 Aktivitäten in NYC zur Weihnachtszeit
December 1st 2021, 12am
comments: 0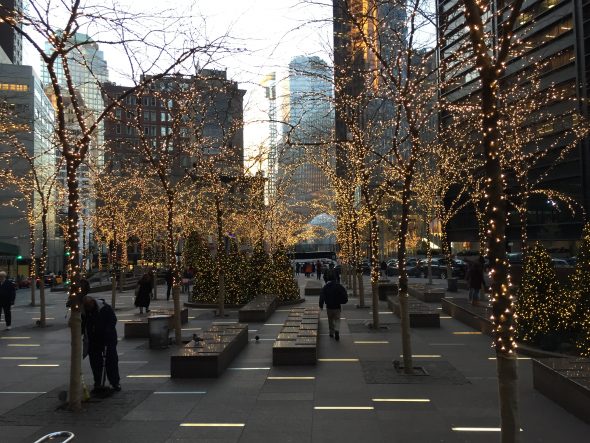 Erlebe den Zauben von New York City in der Vorweihnachtszeit. Die ganze Stadt erstrahlt im weihnachtlichen Glanz, es riecht nach gebrannten Mandeln, und an jeder Ecke gibt es etwas anderes zu bestaunen. Wir haben für euch die "Top 5" Aktivitäten zusammengestellt, die ihr während der Vorweihnachtszeit mit der ganzen Familie erleben könnt.
Was gibt es Schöneres, als im vorweihnachtlichen Zauber über die Weihnachtsmärkte zu wandeln – auch New York hat davon mittlerweile einige zu bieten. Auf unserem Blog "Die Schönsten Weihnachtsmärkte in New York und Umgebung" haben wir euch alle nötigen Informationen dazu zusammengefasst.
Wir mögen allerdings den Columbus Market am Liebsten, denn der ist weniger überlaufen als Union Square und man kann den Besuch wunderbar mit einem Parkspaziergang verbinden.
Auf über 13,o00 sqft findet ihr ein Weihnachtsdorf mit Landschaften mitten in New York im Macys am Harald Square. Der Eintritt zum Weihnachtsdorf ist kostenlos – für ein Treffen mit Santa ist im Voraus allerdings ein Termin zu reservieren (dies könnt ihr online machen).
Der berühmteste Weihnachtsbaum New York's steht auf dem Rockefeller Plaza. Nur einen Block entfernt, auf der 5th Avenue erstreckt sich jährlich eine fantastische Licht- und Musikshow auf dem Gebäude von "Saks". Ein "Must-See" zur Weihnachtszeit, finden wir.
Ab dem Thanksgivings Wochenende bis ins neue Jahr, dekorieren die Bewohner der Dyker Heights in Brooklyn ihre Häuser mit funkelnden Lichtern und unglaublichen Figuren (einige sind mehrere Meter hoch). Das Spektakel startet in der 11. bis zur 13. Avenue und erstreckt sich von der 83. bis zur 86. Straße (ist einfacher, als es klingt). Da die Beleuchtung der Dyker Heights ein beliebtes Ausflugsziel zur Vorweihnachtszeit sind (nicht nur von Touristen), nehmt ihr am besten den D Train zur 79. Straße und New Utrecht in Brooklyn.
CityKinder Tipp: Kommt nicht zu spät, die meisten Häuser schalten ihre Lichter um 21 Uhr aus!
Die Radio City Rockettes führen jedes Jahr zur Weihnachtszeit eine spektakuläre Show aus Gesang, Tanz, Komik und traditionellen Szenen auf. Jede Show dauert 90 Minuten und sollte mindestens einmal im Leben besucht werden. Achtung, Suchtgefahr!
Leave us a comment!