Follow our CityErleben blog to get periodic updates on the best activities with or without your kids like museums, playgrounds, festivals, free programs, day trips and weekend excursions. Get the best out of NYC tested by fellow CityKinder Moms & Dads and our contributors.
Die berühmten Hamptons
May 27th 2016, 2pm
comments: 1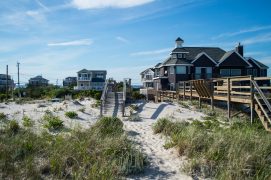 New York bietet einfach so unglaublich viel, so dass die Hamptons eigentlich das "i-Düpferl" sind, das sich jede Stadt wünscht. Sie sind wahrscheinlich auch der Grund, warum sich so viele New Yorker hier wohl fühlen. Ich persönlich fand den Ausflug auf die Hamptons unfassbar schön, aber mir war es eigentlich zu teuer.
Wir haben uns für ein verlängertes Wochenende am Strand entschieden und sind mit dem Zug nach Amagansett gefahren. Das ist eine Station vor der südlichsten Spitze von Long Island. Wir sind verrückterweise ohne Auto rausgefahren und haben es auf dem Weg dorthin sehr genossen, mit dem Zug an der schönsten Landschaft vorbeikutschiert zu werden.
Vor Ort hatten wir allerdings wirkliche Probleme ohne Auto, denn die Taxis sind dort sehr teuer (5 Minuten Fahrt vom Bahnhof zum Hotel haben uns schlappe 30$ gekostet). Aber am Ziel angekommen, wurden wir dann mit einem tollen Strand und wunderbarem Wetter belohnt. Um richtig auszuspannen, genau das Richtige. Wir haben uns für ein kleines Hotel namens "Ocean Vista Ressort" entschieden.
Inzwischen bin ich mir nicht mehr ganz sicher, ob es dort nicht bessere Deals gibt, denn wir haben für ein sehr kleines Zimmer 300$ pro Nacht gezahlt – allerdings war es egal, ob nur zwei oder – wie in unserem Fall – 4 Leute darin geschlafen haben. Ein besonderer Vorteil war jedoch, dass wir direkt am Meer gewohnt haben und nicht wie an anderen Orten der Insel noch eine Genehmigung oder einen langen Anfahrtsweg gebraucht haben, um an den Strand zu kommen. Bei kleinen Besichtigungstouren der Städtchen Montauk und East Hampstead haben wir auch den Flair des "New Yorker Sommers" richtig genießen können – überall kleine Bars, viele Geschäfte zum Shoppen und auch nette Restaurants, wo man entweder sehr gemütlich oder auch sehr chic essen gehen konnte. Alles in allem auf jeden Fall ein gelungener Trip, den man als "echter New Yorker" unbedingt mal machen sollte.
Auf der Karte: Map it
Wegbeschreibung: Wir haben einen Zug von der Penn Station Richtung Montauk genommen und sind dann auf den Hamptons nur mit dem Taxi gefahren. Bei unserem nächsten Tripp mit Kids würde ich entweder direkt in Montauk ein Hotel nehmen, weil man dort unabhängiger ist, oder einen Mietwagen, damit man rumfahren und einkaufen kann ohne das teuere Taxi zu bezahlen.
Kosten: die Übernachtungen pro Zimmer fangen alle so bei 300$ pro Nacht an – zumindest in der Hochsaison; das Zugticket hat nur 25$ einfach gekostet, aber die Taxis sind sehr teuer.
Autorin: Ann Lang (die eigentlich ganz gerne gleich mal an den Strand würde ….)
Merken
Leave us a comment!