Follow our CityErleben blog to get periodic updates on the best activities with or without your kids like museums, playgrounds, festivals, free programs, day trips and weekend excursions. Get the best out of NYC tested by fellow CityKinder Moms & Dads and our contributors.
Eine Interviewreihe "Unsere Familien während Corona" – Ylva Weekes
May 8th 2020, 6am
comments: 0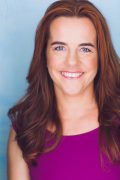 Ylva Weekes ist gelernte Schauspielerin, mit einem Master in Text and Performance Studies von der Royal Academy, in Zusammenarbeit mit dem King's College, London. Sie schreibt zudem für Theater und Film. Zur Zeit ist sie allerdings größtenteils mit den Kindern Zuhause in Long Island, NY. 
Liebe Ylva! Vielen Dank, dass du dir heute ein wenig für uns Zeit genommen hast. Wo befindest du dich denn gerade?
Ich befinde mich gerade in unserem Haus in Long Island, und helfe den Kindern bei dem Bau einer Decken-Höhle.
Wie haben sich die Folgen von Covid 19 auf dein Leben ausgewirkt? '
Sie haben für uns erstmal alles aus den Fugen geworfen. Mein Mann arbeitet an Film-Sets, und ich bin freischaffende Schauspielerin. Von einem Tag auf den anderen waren also beide unsere Einkommen weg.  Zum Glück trainiere auch Anwälte und Zahnärzte in Kommunikation, und konnte wenigstens ein paar Aufträge online ausführen.
Was war die schwierigste Erfahrung für dich in den letzten Wochen? Und was war die inspirierendste und erhebendste?
Ein Bekannter ist an COVID-19 gestorben. Er war Comedian in der City, und hat mich öfter mit seinen Witzen zum Lachen gebracht. Er war erst so um die fünfzig. Es fällt mir immer noch schwer zu glauben, dass er tot ist.
Mich inspirieren die kleinen Sachen zur Zeit. Die blühenden Bäume. Eine Taube hat ein Nest in unserem Rosenbusch gebaut. Das Leben in der Natur geht weiter. Mein Kleiner sagte letztens "Wieso haben die Bäume sich so schön gemacht?" Der Himmel ist zur Zeit so klar und blau wie selten. Ausserdem haben uns vor einigen Tagen liebe Freunde Cookies von Levain geschickt. Da habe ich erstmal eine Runde geheult, weil es mich so berührt hat. Egal, wie schlimm die Situation zur Zeit ist, das Leben geht weiter, und es gibt so viel Gutes und Schönes. Wie zum Beispiel den perfekten Chocolate-Chip-Cookie
Wie erlebst du Gemeinschaft und soziale Verbundenheit in diesen Zeiten? Was sind die Lehren, die wir aus den Auswirkungen der Pandemie ziehen können? 
Das ist eine schwierige Frage. Ich denke, es gibt wie immer zwei Lager. Die einen, die demonstrieren. Ich werde immer wütend, wenn ich Masken und Handschuhe auf der Strasse rumfliegen sehe. Auf der anderen Seite stehen die New Yorker wie immer zusammen und kümmern sich, in dem sie Masken tragen und jeden Abend ihre Dankbarkeit gegenüber Krankenschwestern und Ärzten zeigen. Das liebe ich an dieser Stadt. Ich liebe auch diese "drive-by" Geburtstags-Parties. Wir haben Freunden ein Dreirad zum Geburtstag vorbei gebracht. Das Gesicht der Kleinen war unbezahlbar. Sie hat sich so gefreut. Es sind seltsame Zeiten, aber, für diese Kleine war es ein schöner Geburtstag. Ich habe auch zwei Freunden bei ihren Vorsprechen geholfen, denn sie mussten beide seltsamerweise Deutsche spielen. Früher hätten wir das in einem Café gemacht, jetzt ging es nur über das Telefon und Messenger. Es hat sich trotzdem gut angefühlt, jemand anderem helfen zu können.
Welche Ratschläge hast du für Menschen, die zu Hause festsitzen? Kannst du etwas zum Lesen, Hören, Spielen oder Sehen empfehlen?
Ha! Ich habe selber kaum Zeit irgendetwas zu schauen. Sport rettet mich zur Zeit und hält mich im seelischen Gleichgewicht. Youtube, Amazon, ect. haben alle tolle Workout-Videos, je nachdem was einem Spass macht. Ich gehe auch früh morgens joggen, wenn niemand auf der Strasse ist. Ich spiele auch viele Spiele mit den Kindern. "Monza" von Haba gefällt unserem Kleinen gut. Lotti Karotti macht allen Spass. Unsere Grosse guckt auch gerne "Geronimo Stilton" auf YouTV. 
Ich denke, das Wichtigste ist, nicht zu streng mit uns und anderen zu sein. Wir haben über die Situation derzeit gar keine Kontrolle. Also, habe ich zwar einen groben Zeitplan, und Handy-Alarme für sämtliche Zoom-School-Meetings, aber ansonsten nehme ich die kleinen Dinge nicht so ernst. Die Kleinen haben das Wohnzimmer mit einem Kampf zwischen Iron Man und Captain America verwüstet? Nicht schlimm, vielleicht konnte Mama sogar mal in Ruhe eine Tasse Kaffee trinken. Es wird alles nicht so heiss gegessen,wie es gekocht wird.
Vielen Dank Ylva für deine Zeit und das tolle Interview! 
Wie erlebst du gerade die Corona Zeit? Hast du auch Lust an dieser Interview Reihe teilzunehmen? Dann melde die per E-mail an sarah@citykinder.com
Leave us a comment!